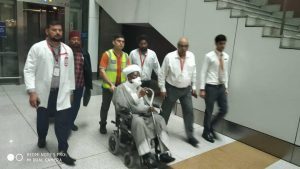 The leader of Islamic movement in Nigeria Sheikh Ibrahim El-Zakzaky and his wife have arrived India for medical treatment.
READ: Sheikh Zakzaky takes off to India for medical treatment
Ibrahim Elzakzaky and his wife who were detained for more than three years were finally granted the leave to travel for medical treatment after a long legal battle.
They arrived India at 10:15 this morning Nigerian time.
The spokesperson of the Islamic Movement in Nigeria (IMN) told journalist that Ibrahim El-Zakzaky and his wife made a stopover at Dubai International Airport this early on Tuesday morning at about 4:00 am