The federal government has announced it will take urgent steps to address issues of Nigerian shops closed in Ghana.
Minister of Foreign Affairs, Geoffrey Onyeama stated this on his twitter handle, @GeoffreyOnyeama.
He said: "Nigerian Government has watched with dismay the painful videos of the forceful closure of the shops of Nigerian traders in #Ghana. Urgent steps will be taken."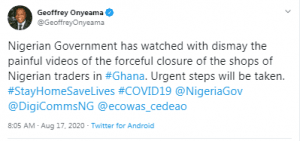 Videos had surfaced on Social media where shops of Nigerians doing business in that country were closed down by Ghanaian authorities.
According to reports, shops belonging to Nigerian traders in Accra were locked up by Ghanaian authorities who demanded cash payment of $1million from them before the shops would be opened.