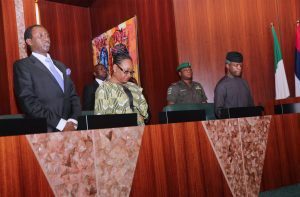 The Federal Executive Council has approved three key policies which are meant to provide direction to government.
They are the Petroleum Policy document, the National Employment Policy and the National Social Protection Policy.
The Petroleum Policy is meant to formalise recent moves already put in place in the Petroleum sector such as the cash call changes, the reorganization already effected within the NNPC to ensure better accountability and the push to move away from exporting crude oil to exportation of refined petroleum products.
Minister of State for Petroleum, Ibe Kacchikwu is confident that the policy will bring about better efficiency in the Oil and Gas sector.
Likewise, Council formalised the National Social Protection Policy giving legitimacy to the social protection programmes already being  run by the Buhari Government since  inception in 2015.
The policies are to be overseen by the National Council on Social Protection which will be made up of representatives of key ministries as well as all state governors.
The third policy document that got approval from Council this week was the National Employment Policy which is an update to the last policy which was put in motion in 2002.
Since then a lot of issues on labour have changed and Minister of Labour, Chris Ngige believes with this new policy, the government's aim of creating decent jobs would largely be met.
He urges patience on the issue of the National Minimum Wage, disclosing that the membership of the committee is yet to be completed by representatives both on Government and Labour's side.