France-based court, the Strasbourg on Tuesday called on Turkey to release former head of Turkey's pro-Kurdish opposition from detention.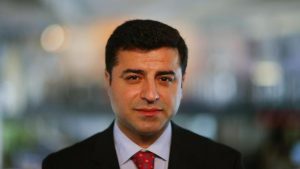 The European court called for Selahattin Demirtas' release saying that Turkey had violated right to a speedy trial as well as his right to be elected and to sit in Parliament.
Demirtas, the former co-chairman of the People's Democratic Party, was arrested in November 2016 on terrorism charges. He ran in Turkey's June presidential election from prison, and also campaigned for a constitutional referendum in 2017 from behind bars.
He was sentenced to four years in prison in September for engaging in terrorist propaganda in support of outlawed Kurdish rebels in one of several trials against him, but is appealing his conviction.