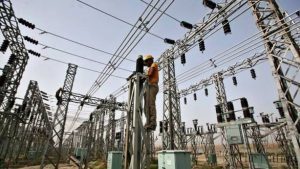 Customers of Enugu Electricity Distribution Company have protested the company's forceful migration of consumers from the existing metering platform to another.
They were at the Electricity Distribution Company's corporate headquarters in Enugu, and claimed that the action will leave holes in their pockets without commensurate service delivery.
TVC News Correspondent Bamidele Ajayi reports that the customers fear that the proposed change of metering system from the post-pre-paid to the new Smart card metering system, is a means of achieving the rumoured hike in electricity tariff through the back door.
They said this has kept many families in darkness without prior notification from the electricity company.
Speaking to TVC News, the Corporate Affairs Officer of the distribution company, explained that through their Sub divisions, spread across the five south east states, the company has carried out sensitisation exercise for more than seven month before the process began.
While  the National Electricity Regulatory Commission has denied any urgent plan to hike the tariff of electricity, consumers demand a fair deal with distribution companies to avoid extortion and paying for darkness.