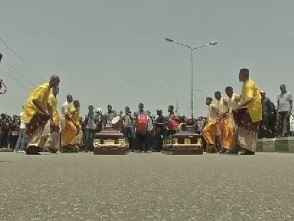 The Bayelsa State governor, Seriake Dickson, said the state government will cater to the educational welfare of the children of a Ward Chairman of the Peoples Democratic Party and a Photographer killed during the last general election.
At a Commendation Service in Yenagoa, Governor Dickson also condemned election violence and the role of the military leading to the death of the duo in Oweikorogha community.
Hundreds of mourners took to the road at the Ovom axis of Yenagoa, the Bayelsa State capital in honour of the dead – a traditional rite of passage bidding farewell to a former Ward Chairman and a Photographer in Government House, cut in their prime by bullets from yet to be identified soldiers after the Presidential and National Assembly election in Oweikorogha.
The caskets were taken to the DSP Alamieyeseigha Banquet Hall for a Commendation Service.
Election violence was also condemned at the service of songs in honour of the fallen members of the PDP. Tears flowed freely as the bodies of the two casualties of the General Election were lowered into their graves at the cemetery in Yenagoa.