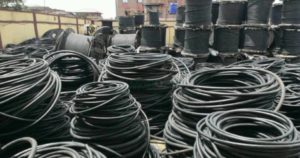 A twenty foot container of imported fake electric cables has been intercepted in Lagos by the KiriKiri Lighter Terminal Command of the Nigeria Customs Service.
The consignment which was imported from China was falsely declared by the importer.
TVC News Correspondent, Ifunanya Eze reports that the twenty foot container was filled with imported electric cables that has Nigerian wire and cable printed on it.
The area Comptroller of the Command, Lami Wushishi stated that the seizure of the electric product became necessary when it was discovered that the container loaded with cables had no accreditation or documentation from any of the approved federal government product regulatory agencies.
In line with inter agency collaboration; the consignment was handed over to the officials of the Standards Organization of Nigeria for further analysis.
Underscoring the need for truthful declarations by importers, Comptroller Wushishi revealed that the command has exceeded its monthly revenue target.
She stated that N7.39 billion naira was generated in the first half of 2017, which is more than 200% increase over the previous year.