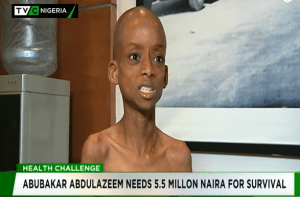 15 year old Abubakar Abdulazeem is calling for the help of Nigerians, financially. Abubakar drank caustic soda at the age of four and has been battling for life, for the past eleven years.
Jacqueline Ogoh brings a reports that Abdulazeem was cut from the full enjoyment of life since the age of four, when he accidentally drank custic soda. That began a huge battle of surgeries, for him to be able to eat, swallow and digest.
Three surgeries at the University Teaching Hospital, Ibadan and one in a private hospital, could not correct the big damage to his esophagus, which has now become very tiny. Abubakar feeds only on liquid, the very reason why he has so much emaciated.
Fifteen years old Abubakar, who used to attend Bolade Model College, Owode Academy, in Ibadan Oyo state, no longer goes to school. Before the school asked him to stay back at home, due to lack of strength for intensive studies, he had brilliant results, such as this, to show. He needs 5.5 million naira, for survival.
Abubakar Abdulazeem is the first born in a family of four. His father is a petty trader and his mother knits cardigans for sale. He urgently needs a corrective surgery in India, to be alive and well.
If you want to save a Nigerian family and the country from mourning a brilliant child, battling for life, send your donations to:
ABUBAKAR ABDULAZEEM, FIRST BANK
ACCOUNT NUMBER–3105444454
Help save a life today……