The Federal Government has been urged to pay special attention to cocoa production and other tree crops, in order to boost the country's foreign exchange.
The Chairman of the Ondo State Cocoa Council, Olusegun Awolumote spoke at a two-day workshop, organised by the Nigerian Export Promotion Council, on optimising technology and infrastructure for Cocoa revolution, held in Akure, the state capital.
Before the discovery of crude oil in Nigeria, cocoa was the mainstay of the country's economy.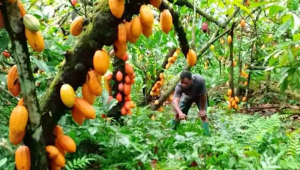 The country, which was the number one producer of cocoa in the world, is now rated third, behind Cote d'Ivoire and Ghana.
This development has continued to give experts in the business a serious concern, in the face of challenges like ageing cocoa trees and quality of the product being exported.
The issue was extensively discussed at this workshop, organised by the Nigerian Export Promotion Council, in conjunction with SMEDAN and the Ondo State Information Technology Agency.
The President of Ondo State Council, Olusegun Awolumote said there is the need to ensure that Nigeria regains its position in the global market, through value addition to cocoa.
The Senior Special Assistant to the State Governor on Agriculture, Akin Olotu urged the Federal Government to focus more on providing security for farmers, as well as construction of rural roads.
The State Coordinator of the Nigerian Export Promotion Council, Benedict Itegbe wants more youths to venture into farming.