Supporters of President Bola Tinubu have staged a peaceful walk to the European Union Office in the Nations capital, to protest against it's report on the 2023 presidential election.
Leader of the group, Ene Ogboli said the report is an attempt to ridicule Nigeria's sovereignty.
The Independent National Electoral Commission declared the candidate had of the All Progressives Congress, APC, Bola Ahmed Tinubu, winner of a well contested 2023 Presidential election.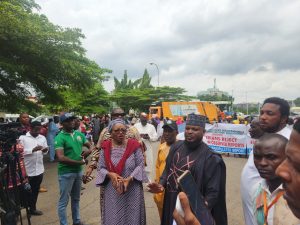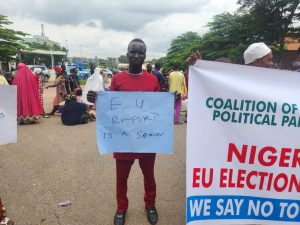 But there have been discussions around the credibility of the process, particularly the part played by the Electoral umpire, INEC.
The two major opposition parties- the Peoples Democratic Party, and the Labour Party, disagreed with the outcome of the elections and have since gone to the Presidential Elections Petitions Tribunal to challenge it.
Electoral observers had submitted reports on the conduct of the elections, but it is the conclusions drawn up by the European Union Election Observation Mission (EU-EOM)that is causing some disquiet.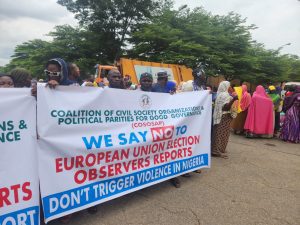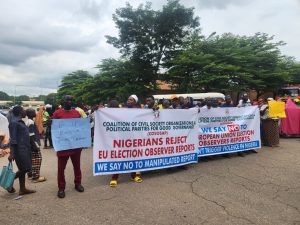 The report had outlined acts of violence, killing and vote buying as some of the factors that marred the elections
The APC supporters disagreed with the report on the February 25 and March 18 elections and have chosen to stage a peaceful walk to the EU office in the nation's capital to show their dissatisfaction.
The Independent National Electoral Commission has disclosed that it will continue to improve on it's performance to conduct a credible election.