A tragic incident has occurred off the southern coast of Greece, where a fishing vessel capsized, resulting in the loss of at least 79 lives.
While over 100 individuals have been rescued, survivors and Greek officials have reported that hundreds more migrants were on board.
This devastating event has been declared one of Greece's largest migrant tragedies, prompting the government to declare three days of mourning.
The vessel sank approximately 80 km (50 miles) southwest of Pylos, after the coastguard reported that their offer of assistance had been declined. The exact number of individuals on board remains unclear, but the magnitude of this disaster cannot be understated.
The coastguard said the boat had been spotted in international waters late on Tuesday by an aircraft belonging to EU border agency Frontex. No one on board was wearing life jackets, it added.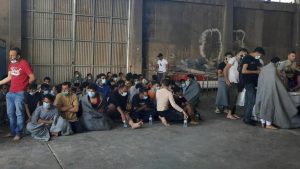 Quoting a timeline provided by the shipping ministry, Greek public broadcaster ERT said authorities had made contact with the boat via satellite phone on several occasions and offered help, but were repeatedly told: "We want nothing more than to go on to Italy."
Shortly after, "the boat capsized, taking only ten to fifteen minutes to sink completely." A search and rescue operation was triggered but complicated by strong winds.
Alarm Phone, an emergency helpline for migrants in trouble at sea, said the coastguard was "aware of the ship being in distress for hours before any help was sent", adding that authorities "had been informed by different sources" that the boat was in trouble.
It is believed that the boat was en-route from Libya to Italy, carrying mostly men in their twenties.
According to local media reports, they had been at sea for several days.
Survivors recounted that there may have been as many as 500 to 700 people on board.
Regional health director Yiannis Karvelis expressed concern over the unprecedented tragedy, stating that the number of people on board far exceeded the boat's capacity.
This tragic incident highlights the dangers faced by migrants
Survivors were taken to hospital and a depot in Kalamata that was being used as a temporary shelter.
The nationalities of the victims have not yet been announced.
Survivors have been taken to the town of Kalamata, and many were treated in hospital for hypothermia or minor injuries.
Greek President Katerina Sakellaropoulou visited some of those rescued and expressed her sorrow for those who had drowned.