The first batch of pilgrims for Hajj 2023 have been airlifted from Kwara state to Saudi Arabia.
Kwara state governor AbdulRahman AbdulRazaq Friday night accompanied them to the Ilorin International Airport to bid them farewell.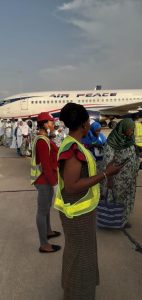 It has been a routine for the Governor to pay courtesy visit to intending pilgrims at their camp and later accompany them to the airport as a way of identifying with them.
The National Hajj Commission of Nigeria (NAHCON) commenced the airlift of pilgrims on Thursday with an inaugural flight that comprised pilgrims from Nasarawa State.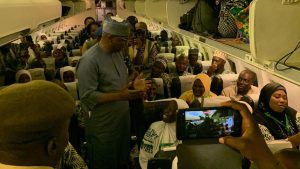 Hajj is one of the pillars of Islam which holds yearly with a large number of Muslims from around the world gathering in Saudi Arabia to perform the rite.
During his visit, Governor AbdulRazaq exchanged pleasantries with the pilgrims who took turns to commend his humility.
They also prayed for his success during his second term in office, while the Governor wished them a safe landing at their destination.
AbdulRazaq who won re-election into office would be inaugurated for his second term on Monday.
He has also emerged as Chairman of the Nigeria Governors' Forum (NGF), with his colleagues reposing confidence in him to provide leadership for the forum.
The First batch of 260 pilgrims who had been screened were flown to Lagos in the evening via Air Peace in two separate flights.
Addressing the pilgrims before their departure, the Amirul Hajj, Alhaji Umar Bologi, who is also the Etsu Patigi charged them to be law-abiding and guide against anything that will tarnish their names and that of the country.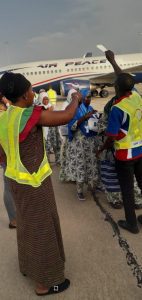 According to him, they are embarking on a spiritual journey hence they should avoid all unholy acts.
Alhaji Bologi urged them to pray for continued peace in the state, the nation and the entire universe.
Since 1992 pilgrims from Kwara State again resumed flights from Ilorin International Airport direct to either Jiddah of Madina, this is the first time that they would be travelling from Ilorin en-route Lagos to Madina.
Reacting to this development, the Chairman of the board, Dr Abdulkadir Shambaki said they were faced with some little logistic problems which they are still addressing.
He, however, assured that all the 3,740 from the state would be airlifted within the scheduled period and appealed to the pilgrims to be patient.
Governor AbdulRahman AbdulRazaq, who also serves as the Chairman of the Nigerian Governors Forum, has intervened in the matter, as direct flights from Ilorin International Airport to Madina are expected to start this weekend.