Governor of Anambra state, Chukwuma Soludo has signed a Memorandum Of Understanding (MoU), with the Enugu State Electricity Company (EEDC), for the development of mechanisms to ensure steady power supply across the state.
The MoU signing ceremony between both parties was performed at the EXCO Chambers, Government House, Awka, the state capital, on Friday.
While Governor Chukwuma Soludo and the Commissioner for Public Utilities, Engineer Julius Emeka signed on behalf of the state government, the Chief Executive Officer of EEDC, Emeka Offor signed on behalf of his organisation.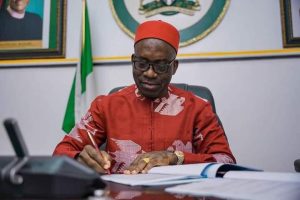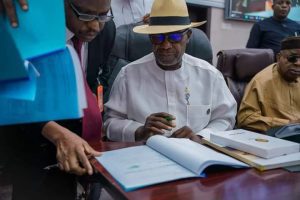 The MoU entails that the Anambra State government will undertake and lead the development of a comprehensive, integrated energy resource plan for the state that provides vital input on fuel sources, current and projected load/demand and potential locations for load-serving entities within the state, among other roles.
The EEDC will procure all regulatory approvals for enabling private sector investors and other stakeholders to participate in the development of the electricity supply chain in Anambra State, among others.
Speaking on the partnership, Governor Soludo expressed optimism that the partnership will translate into positive changes in the lives of the Anambra people, saying that it is healthy in the journey to a prosperous smart megacity.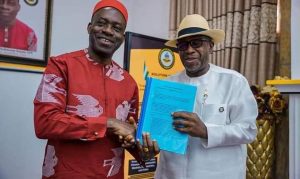 The Governor hinted that he had always underscored the importance of power in development and pointed out that the MOU signing is a consummation of a long-standing relationship and partnership with EEDC.
Governor Soludo who expressed great commitment to the project, called on Anambra citizens abroad, especially the wealthy, to bring at least, twenty-five percent of their non-land asset home and contribute at least five percent of tax.
The Chief Executive Officer of EEDC described the day as crucial for him as an indigene of the state and commended the zeal and cooperation of the Governor and his administration.
He expressed optimism that with the commencement of the implementation of the project within the next eighteen months, major cities in Anambra will begin to get at least, 18 hours of power supply.
Speaking earlier, the Chairman, of Anambra State Power Committee, Engineer Chike Okonkwo said that the partnership is in line with the visionary policy initiated before the Governor's inauguration and stressed the state government's readiness to implement the roadmap which has been approved by the state executive council.