President, Muhammadu Buhari has approved a work plan for the National Council on Climate Change (NCCC).
The plan was approved at the inaugural meeting of the Council chaired by Buhari with Vice President Yemi Osinbajo as Vice Chairman and the Director-General of NCCC, Dr Salisu Dahiru, as Secretary, among other members.
The President also approved the deployment of staff from key Ministries, Departments and Agencies (MDAs) to the Council to ensure its effective take-off.
Responding to a number of requests by the Director-General of the Council, on ensuring a smooth take-off and operationalization of the Council, President Buhari approved the proposed Institutional Arrangement, (Organogram) for the Council, as presented.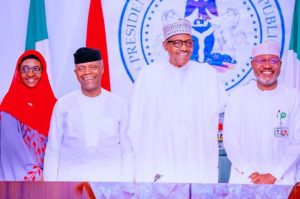 The President also okayed the operationalisation of the office space to provide a conducive working environment for the Council and the development of the Open Market Carbon Trading Framework and Infrastructure (Phase I) in collaboration with M/S Rosehill Group Limited.
At the meeting, the President approved that the Energy Transition Plan and Office be subsumed into the NCCC to ensure the continuity and sustainability of the initiative in accordance with the Climate Change Act 2021.
The President also endorsed the Council as the Designated National Authority for the United Nations Framework Convention on Climate Change (UNFCCC) and the DG, NCCC as the UNFCCC National Focal Point, in line with the Climate Change Act 2021.
Commending the management for their dedication to duty, the President urged the team to work diligently toward finalizing the National Climate Action Plan.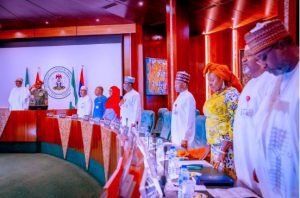 He noted that the Plan would provide a sustainable framework for all climate-related activities in Nigeria and also provide the surest tool for engagement with the global community.
The President recalled that he had assented to the Bill setting up the National Council on Climate Change, which was followed by the appointment of the Director-General and subsequent inauguration of the Council on the 28th of September 2022.
The Minister of Environment, Mohammed Abdullahi, said with the steadfast support of the President, Nigeria is set to take the lead on climate change issues, biodiversity, wildlife conservation and energy transition plan implementation in Africa in line with her commitments under the UNFCCC.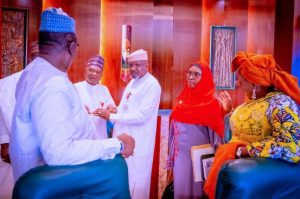 He thanked the President for his strong leadership of the Pan-African Great Green Wall (PAGGW), the Sahel and Sahara Initiative, the Sahel Climate Commission, and the Lake Chad Basin Development Authority.
Dahiru, the Council's Director-General, briefed members on the need to operationalize the body while presenting the first memorandum of the agency that is leading Nigeria's response to Climate Change.
According to him, the Secretariat has developed a draft Institutional Arrangement (Organogram) for the Council, proposed a vision and mission for the Council, included the Council in the 2023 National Budget, and harmonised Nigeria's response to climate change for COP27.