The Supreme Court of Nigeria has restrained the Federal Government from implementing the February 10 Deadline of the old 200, 500 and 1000 Naira notes to stop being a legal tender.
Three Northern States, Kaduna, Kogi and Zamfara, had in a motion ex-parte filed on February 3rd, prayed the apex court to halt the Central Bank of Nigeria naira redesign policy.
A 7-man panel of the Supreme Court led by Justice John Okoro, in a unanimous ruling, granted an interim injunction restraining the FG, CBN, commercial banks etc from implementing the February 10, deadline for the old 200, 500 and 1000 Naira notes to stop being a legal tender.
The court further held that the FG, CBN, commercial banks must not continue with the deadline pending the determination of a notice on notice on in respect of the issue on February 15.
By this ruling, the old Naira notes continue to be legal tenders in Nigeria.
In a motion by five political parties, the court also granted an order directing the Chief Executive Officers (CEOs) of the banks, to show cause why they should not be arrested and prosecuted for the financial sabotage of the country, by illegally hoarding and not disbursing the new N200, N500, and N1000 bank notes, despite supply of such notes by the central bank.
Buhari, last year, approved the redesign of the banknotes. The move has, however, created hardship among Nigerians who have struggled to lay hands on the new notes as the February 10th deadline for the currency swap inches closer.
In the wake of the naira swap crisis, the CBN maintained it would not extend the deadline.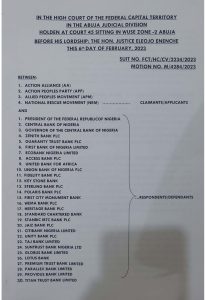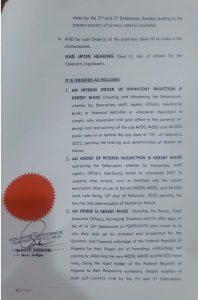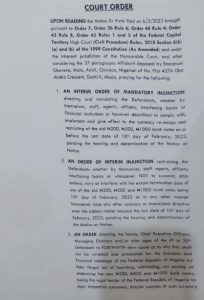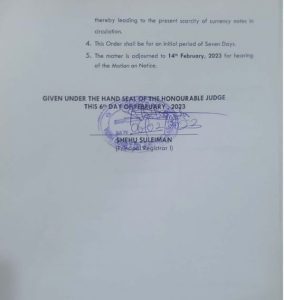 The recent CBN policy has been met with polarising views as some have expressed support for the apex bank's decision, while many others have kicked against it as insensitive to the average Nigerian.
On the one hand, some critics of the directive have accused the central bank of deceiving Buhari.
For instance, a former National Chairman of the All Progressives Congress (APC), Adams Oshiomhole, faulted the policy, describing it as senseless and a plot by the apex bank to scuttle the general elections.
According to him, the CBN sold an anti-corruption motive to the President which made him approve the policy.