The Ministry of Information, Arts, and Culture is currently collaborating with the UNWTO and other private sector stakeholders to establish a tourism academy in the country.
Alhaji Lai Mohammed, Minister of Information, Arts, and Culture, revealed that the initiative was planned and launched at a global conference on tourism, culture, and the creative industry held in Lagos last November.
Alhaji Mohammed made the announcement at the Terra Academy for the Arts' (TAFTA) inaugural graduation ceremony in Lagos.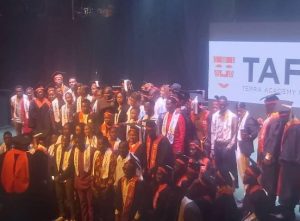 The Minister said the tourism academy would be located in Lagos to provide accessible, vocational managerial and transformative training for the tourism and hospitality sector.
Alhaji Mohammed described TAFTA as one of the private sectors, the government would be partnering to provide Nigerian youths with employment opportunities.
He said it would also help to explore all areas of possible collaboration with the private sector and extend the training across the length and breath of Nigeria.
"I want to describe TAFTA as a partner in progress as they would be complementing the efforts of the government not just to create jobs but also to create the enabling environment for the private sector to provide jobs for the teeming population of our youths.
"I am not surprised that in addition to discovering, nurturing, exposing and projecting talents from Nigeria through Terra Kulture since 2003, Mrs Austen-Peters deemed it fit to create a platform for indigent youths to learn technical skills in the areas of light design, sound design, animation , script writing among others," the minister stated.
However, the Founder of Terra Kulture and TAFTA Mrs Bolanle Austen-Peters, at the maiden graduation ceremony in Lagos, re-emphasised the need to invest in knowledge acquisition for the youths.
She said the training was spurred by her interest in exploring creative means to build wealth as she also believed in the potentials in the younger generation.
According to her, the training was done in collaboration with Mastercard Foundation, which was entirely free for the beneficiaries.
She congratulated everyone present as she recognised that jobs were not available.
Mrs Austen-Peters encouraging youths to open their minds to get jobs anywhere in the world with the knowledge they have acquired.