The National Agricultural Land Development Authority (NALDA) is certain that the country will not suffer a food crisis next year as a result of the government's agricultural support and how this has helped increase productivity.
This comes against the backdrop of concerns about possible food shortages next year as a result of this year's rains, which severely impacted production.
Perennial floods which destroyed farmlands across the country this year, has been described as the country's worst experience.
One that exceeds devastation seen from the 2012 floods that caused more than two trillion naira in losses.
There are fears of acute food shortage next year as an already bad food security situation grossly affected by insecurity would now be worsened.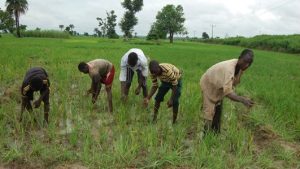 The agriculture minister has already revealed that efforts are now being made to work with development partners towards preventing shortages.
This view is also shared by the agricultural land development authority for several reasons.
The Agricultural land development authority has embarked on various agricultural projects over time to enhance job creation and wealth creation with particular emphasis on youths and women.
It's projects include wheat farming , rice cultivation, poultry , fisheries and rabbit farming.
The agency says the interventions have been massively rewarding.
Going forward the agricultural land development authority intends to build on existing successes with a view to deriving even greater benefits and returns in ways that are highly economically beneficial.
The agency which was established in 1992 but scrapped in the year 2000, was revived two years ago with the mandate of retrieving all agricultural lands towards youth empowerment and job creation.