The Federal Executive Council, FEC has granted N630 million for the Ministry of Justice to hire a consultancy firm to assist the country in the deployment of technology to decrease risks and damages associated with contract awarding.
Attorney General and Minister of Justice Abubakar Malami made the announcement to State House Correspondents on Wednesday, following the council's weekly meeting, which was presided over by President Muhammadu Buhari.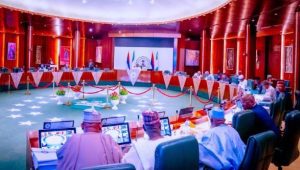 The memo submitted by the Ministry of Justice, according to the Minister, will help eliminate all shortcomings related with contracts that expose the nation to greater risks and damages.
"This memo is intended to bring about a new development in contract administration in Nigeria, by way of deployment of technology, building capacity and specialisation, developing a continuous check list of all existing contracts and ensuring that the interest of the Nigerian government in all contracts to be considered by Ministries, Department and Agencies, are adequately addressed, to ensure that the government is not subjected to higher risks as it relates to damages and deficiency in contracts that it may sign with third parties.
"So, the Federal Executive Council considered the memo and granted approval for the engagement of a consultancy service firm that will now assist in the deployment of technology in building the capacity of the relevant departments in the Federal Ministry of Justice that are responsible for providing technical services in the formulation of contracts and to ensure that the necessary clauses and protection is provided for the government in the drafting of agreements so as to reduce to the barest minimum the level of digression witnessed recently in some contracts.
"At the end of the day, the council approved the contract for consultancy services in the sum of N630, 132, 750 inclusive of the 7.5 percent value-added tax, with a completion period of six months," he added.