President Muhammadu Buhari has said that Nigeria lacks funding to urgently finance its energy transition and climate action agenda due to debt distress in the country which affects many low and middle income countries.
The president who is being represented by the minister of Environment, Mohammed Abdulahi said this on Tuesday, at a high level segment of the 27th edition of the United Nations Climate Change Conference in Egypt.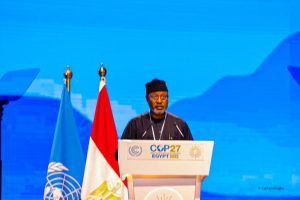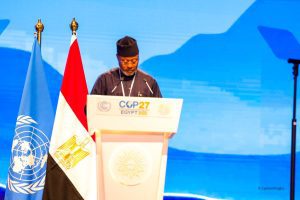 According to him "At COP26 in Glasgow, I announced Nigeria's commitment to net-zero by 2060 on the basis of a detailed Energy Transition Plan (ETP). This plan, the first of its kind in Africa highlights the significant scale of resources required to attain both development and climate ambitions by 2060. However, the public finance urgently needed to fund energy transitions and climate action is lacking – a situation compounded by debt distress affecting many low- and middle-income countries"
He says Nigeria is currently grappling with devastating effects of terrible flooding which has affected 3.2 million persons, and over 300 hectares of farmlands destroyed, with increasing fear of food insecurity.
He called on developed nations not to ignore the demand from developing nations to establish a Loss and Damage finance facility to help developing nations recover from the adverse effects of climate change.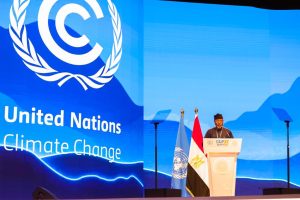 "The economic cost for Loss and Damage for Africa is estimated at almost USD 2 Trillion excluding non-economic losses. Developed nations must not ignore the demand from developing nations to establish a Loss and Damage finance facility to help developing nations recover from the adverse effects of climate change, particularly the devastating floods, worsening desertification, and rising sea levels."
In the midst of the challenges, he said that Nigeria is "taking bold steps to pioneer innovative climate finance instruments such as debt for climate swaps; and championing the development of the African carbon market initiative" and that "Nigeria has enacted the climate change law alongside the initial governance framework and launched the Nigeria Emission Trading Scheme (ETS)"