The Zamfara state anti-thuggery Committee has arrested three suspects for allegedly supplying Sim Packs, hard drugs, illegal substances, and sexual enhancers to bandits in their Hideouts.
Three other suspects were arrested for alleged phone snatching at a wedding and a Golf vehicle marked with bullet shots was also confisticated.
The heavy use of illicit drugs by Armed Bandits and Kidnappers is one of the reasons the war in Nigeria's North west is still ravaging
Their frequent use and abuse of Illicit drugs account for the ruthlessness of their attacks on innocent Persons, especially travellers.
Suppliers of drugs to bandits have continued to devise new ways of beating security checks and are also finding new smuggling routes, some of which are partly controlled by the bandits.
The Zamfara State Government has devised new security measures to curb banditry and other heinous crimes, this includes shutting down some major roads used by the bandits and Kidnappers
And it is yielding results with the state anti Thuggery Committee recently intercepting a vehicle loaded with hard drugs and other items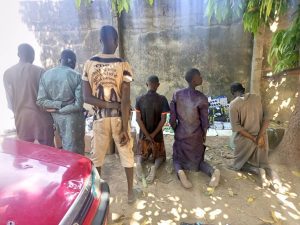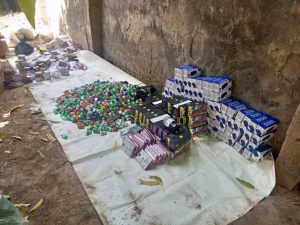 The items were meant to be delivered to bandits along Dansadau – Magami – Wanke Road, which is also one of the roads shutdown by the state government
Chairman of the Committee Bello Bakyaswa said three suspects were arrested in connection with the crime and their Operational vehicle confiscated.
He also said three other suspects were also arrested for snatching mobile phones at a wedding ceremony in Tudun Wada, Gusau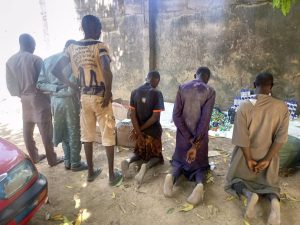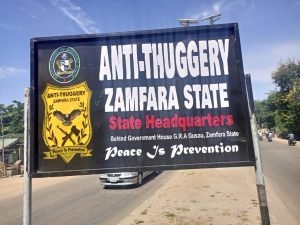 The Zamfara state Anti-Thuggery Committee was established to complement the move of security agencies against political thuggery and other criminal collaborators in the state
The Committee has representatives from security agencies and the National Drug Law Enforcement Agency, NDLEA
Chairman of the Committee Bello Bakyaswa warned members of the public to desist from involving themselves in activities which enable Criminal elements
The Suspects according to the Committee, will be handed over to relevant agencies for further interrogation.