The General Officer Commanding GOC 8th Division Nigeria Army Headquarters Sokoto, Major General Uwem Bassey has called for fair hearing and speedy dispensation of justice in the General Court marshal of 68 accused Army personnel of the division.
The GOC made the call during the inauguration of the General Court Marshal panel at the Giginya Army barracks Sokoto.
He Says the Court Marshal is aimed at finding out the truth and dispense justice not just for the victims, but for the institution and the state.
He assured the personnel facing the Court Marshal of justice and fairness in adjudicating the charges brought against them, stating that the 1999 Constitution as amended will be the guide of the Court Marshal.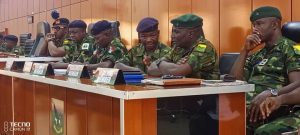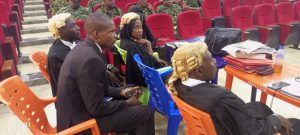 Some of the charges against the personnel including, act of cowardice, lost of army equipment armed robbery a different homicide among other charges.
The decision to Court Martial personnel by the Nigerian Army is part of efforts aimed at ensuring the maintenance of discipline within the ranks.
It is also part of the plans of the High command to ensure that Officers perform their duties to the best of their abilities without the hindrance of indiscipline within the ranks.
The move against indiscipline within the ranks according to observers and Security experts will help in galvanising the move against insecurity across the country.
It will also according to them aid in reducing the incidence of collaboration by personnel of the Nigerian Army with terrorists and Other criminal elements within the Country.
It will be recalled that a former General Officer Commanding the 8th Division of the Nigerian Army in Sokoto , Major General Akeem Oladapo Otiki, was Court Martialled for embezzlement of funds and Other infractions and has since been dishonourably discharged from the Army.
The current Chief of Army Staff, Lieutenant General Faruk Yahaya is from Sokoto which has also faced its fair share of attacks by bandits, terrorist and Other criminals.