The Court of Appeal in Abuja has affirmed the judgment delivered on 27th January by Justice Yusuf Halilu of an FCT high court, which sentenced Maryam Sanda to death by hanging for killing her husband.
In the Judgment, presiding Judge, Justice Stephen Adah held that a court is duty bond to do justice to a case according to law and not sentiments.
Law does not leave any space for irregularities and parties must conduct criminal trial according to law.
The appellant's argument that allegations against her at the trial court ought to be through information sheet and not charge sheet is not attainable, as she does not have to right to detect the mode of arraignment or charge.
On issues canvassed by the appellant that the trial judge assumed the role of an investigator was taken out of context.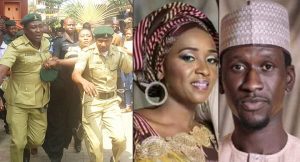 Justice Adah held that the trial judge did not engage in any investigation outside the evidence before the court.
Evidence in this case is circumstantial because there are no organic facts linking her directly to the crime.
Cognizance will be taken on the events that led to the death of her husband
The appellant had threatened to cut of the private part of her husband after she found a nude picture of a woman in his phone.
She also threatened his with a bottle and a knife which she was stopped by the prosecution witness 1 who was present at that time.
The court held if she could threaten to cut of his private part she had the intention of killing him.
Lastly the court held that the appeal filed by Maryam Sanda lacks merit