The Supreme Court has commenced hearing of  an application filed by Emeka Ihedioha of the Peoples Democratic Party (PDP), asking it to review its judgment on the Imo governorship that declared Hope Uzodinma of the All Progressives Congress (APC) winner of the March 9, 2010 election.
At the resumed hearing, counsel to Emeka Ihedioha, Kanu Agabi told the court that result tendered came from 366 polling units, but the judgment gave credit for 388, they got results from 22 polling units which they did not tender.
The judgment did not show that they achieved the required constitutional spread.
There was fatal error in the judgment.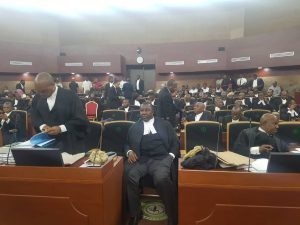 The APC and its candidate had stigmatized the election as invalid and did ask for a fresh election in the 388 polling units.
Mr Agabi prayed the court to set aside the judgment delivered on 14th January 2020 on the Imo State governorship election.
In his response, counsel to Governor Hope Uzodinma, Damien Dodo said the court lacked the jurisdiction to review its own judgment.
Whether the application is characterized as a review or application to set aside, the court lacks the jurisdiction to sit on appeal over its judgment.