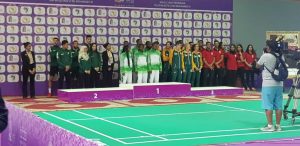 The Nigerian badminton team are yet to leave the country for the 2020 Olympics qualifier, which commenced on Monday (today) in Egypt, as they have not been issued visas by the Egyptian Embassy in Nigeria.
President of the Badminton Federation of Nigeria, francis Orbih said their inability to secure visa from the Egyptian Embassy had already scuttled their chances of participating in the team event of the qualifiers.
The tournament serves as qualifiers for the men and womens team event of the Thomas and Uber Cup, which is billed to hold in Denmark between May 16 and 24.
He however said if the visas are gotten later on monday, the team would depart the country on tuesday to take part in the qualifiers for the singles event of the Tokyo 2020 Olympics.