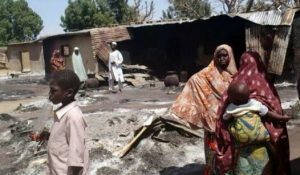 Residents of Michika town in Adamawa state are returning to their homes after a terrorist attack was repelled by the military on Thursday.
Many residents had fled their houses during the night attack to take refuge in the bush and surrounding hills.
The state Chairman of Rice Farmers Association of Nigeria who is also the traditional title holder Stephen Maduwa, says normalcy has returned and people are returning home.
Mr Maduwa added that so far there is no information of any civilian casualty.
According to him, the insurgents came to steal food as an abandoned truck was discovered with food items and two motorcycles