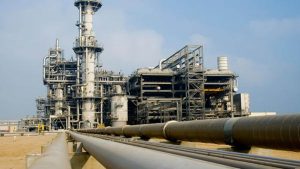 The Nigerian Senate has called for the revitalisation of the Brass Liquefied Natural Gas Project, which is currently in a sorry state even after Investments of about 1.2 billion dollars.
To this end, the senate has invited the Management of the NNPC and the Brass Liquefied Natural Gas to brief its Committee on Gas Resources on the extent of the implementation of the LNG Project.
The Brass liquefied natural gas Project was first introduced in 2007 by former President Olusegun Obasanjo. Since then, several billions of dollars have been injected into the project , but this has not yielded positive results.
The agreement between four of it's major stakeholders in 2003, was to establish a liquefied natural gas facility in Brass island to boost social economic development and foreign exchange earnings of the country.
Disturbed by the dilapidation of the project, the matter was brought before the senate parliament to chart a possible way forward.
Mover of the motion, is the Senator representing Bayelsa East senatorial district, who said the activities of the LNG Project has potentials to hugely promote local content and pull local and multi-national companies to the creek.
The motion enjoyed the backing of other lawmakers, with calls for the Brass LNG project to be revived.