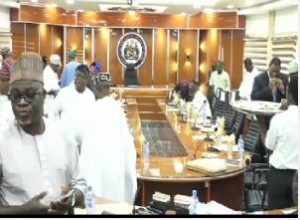 Governor Gboyega Oyetola said his administration will anchor it's development on four pillars of Economic revitalization, infrastructure, environmental sustainability, human capital Development and security.
The Governor stated this in Osogbo while addressing his cabinet members at the first executive council meeting held since his administration began
last year.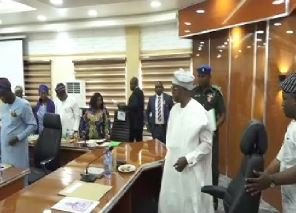 Rafiu Hammed report that one after the other, the Commissioners and Special Advisers arrived the exco chamber of the Governor's office, then the arrival of the Governor, Gboyega Oyetola.
The first Assignment was the oath of secrecy for all the cabinet members and the Governor then set the tone for the meeting. He believed with team work and dedication, the set agenda will be achieved.
Being the first executive council meeting, it lasted for five hours as Journalists had to wait for the outcome. On the Economic summit scheduled to hold between 19th and 21st of November this year, Funke Egbemode says investors are already showing interest.
The State executive council meeting will now hold every Monday.