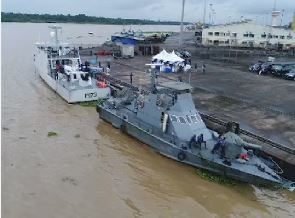 A sea exercise using four ships, patrol boats and a helicopter is what the Central Naval Command has flagged off to regulate fishing activities in the maritime environment of Delta, Bayelsa and neighbouring states in the Niger Delta.
The three-day exercise is the brainchild of the chief of naval staff to protect critical oil and gas national assets in the maritime domain.
Ovieteme George reports that four ships, two patrol boats and a helicopter deployed by the Central Naval Command will be covering 156 nautical miles that stretches from the Benin River in Delta, the St. Nicholas River in Bayelsa and neighbouring states.
The three – day sea exercise code-named "Doufiyayi Kekere" was flagged off by the Flag Officer Commanding Central Naval Command.
Rear Admiral Saidu Suleiman Garba outlines the mode of operation for the Third Quarter sea exercise with special focus on the economic zone which
holds the oil and gas assets of the nation.
The navy will be conducting Fleet Manoeuvres, Gunnery Exercises and Communication At Sea to rid the maritime environment of illegal activities.