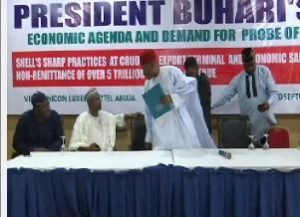 Some civil society groups have lashed out at Oil Giant Shell Nigeria for failing to remit oil revenues to the federal government, consequently contributing to oil revenue loss.
TVC NEWS Senior Correspondent, Femi Akande reports that the groups feel the Oil exploration and manufacturing company is sabotaging the
president's economic agenda by failing to remit crude oil shipment revenue to the federal government.
Just last week, the National Economic Council complained about the rising loss of oil revenue that put the country at a risk of losing $2.7 Billion
this year alone. This ti me, the Nigeria National Interest defenders claimed that these Oil thefts are mostly perpetrated at shell terminals.
The now dissolved Special Presidential Investigatory Panel (SPIP) on the recovery of public property, led by Okoi Obono Obla in June this year,
sued four major oil companies for not being transparent in reporting their production activities.
Advertisement

The Panel also accused the companies of engaging in under-remittance of taxes and oil/gas royalties and in some cases, diverting such funds to
private coffers.
The manager, Media communications of Shell Nigeria Bamidele Odugbesan in a telephone conversation told TVC NEWS that all the allegations are untrue.
Mr Odugbesan said Shell Nigeria upholds ethical conduct in all its operations. He says their activity is on behalf of the joint venture partners and the
federal government controls 55% and the regulators are at the terminals to monitor activities.
He said the Oil giant continues to remit billions of dollars annually and will never work against the economic interest of Nigeria.
Advertisement