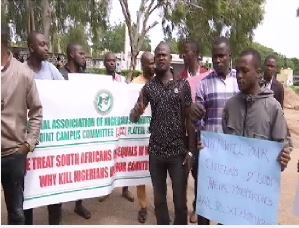 The National Association of Nigerian Students picketed two South African Companies, in Jos, plateau state capital, protesting frequent Xenophobic attacks on Nigerians living in South Africa.
TVC News Funom Joshua reports that the protesting students carried placards with different inscriptions which express their dissatisfaction with the lackadaisical attitude shown by the South African government over the matter.
The group accuses the government of South Africa of turning a blind eye to the attacks on Nigerians and their properties in the Country in recent
times.
118 Nigerians have been reported to have lost their lives over the years as a result of xenophobic attack in South Africa.
Advertisement

The protest took them to the MTN main office and a branch of Multi Choice DSTV where both were padlocked by the protesters till further notice.
The Students body also call upon the Nigerian government to intensify more efforts toward the safety of its citizens in Countries with xenophobic
tendencies.
Michael Olaniyi is the regional sales manager MTN Enterprise Business north East, he spoke to the students on behalf of the Company.
The two companies said the student body will remain under lock and key until further notice.