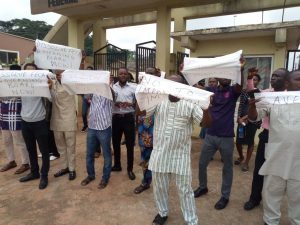 Members of the Academic Staff Union of Polytechnics (ASUP), Federal College of Agriculture, Akure branch have staged a peaceful protest against the appointment of Albert Fadiyimu as the new Acting provost of the institution.
Armed with placards with various inscriptions, the protesting lecturers described Fadiyimu's appointment as illegal and unconstitutional.
The lecturers faulted the institution's governing council for approving the appointment of Fadiyimu who is not the most senior officer in the college.
The aggrieved lecturers said the protest would continue until the appointment is reversed
Advertisement

Fadiyimu was appointed last Friday as the institution's acting Provost
Before his current appointment, Fadiyimu was the Head of Development of Animal Health and production,replacing the former
He replaces Emmanuel Moyinjesu.