Screening of ministerial nominees will continue on Monday after a long day that saw the appearance of seven nominees on Friday.
The last to be screened was Mohammadu Dingyadi of Sokoto state  but before then, Isa Ali Patami, of Gombe state and Pauline Tallen of Pateau state were screened.
Here are other screened so far today: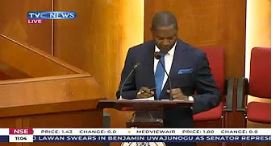 Former Attorney General and Minister of Justice, Abubakar Malami was the first to take the stand. The Senior Advocate of Nigeria was grilled on the how he served in the first term of this administration.
The minister of justice was confronted with his alleged selective obedience to court orders. His response was that his duty to protect the overall rights of citizens is superior to the liberty of any individual.
Hadi Sirika, another nominee at the verge of a return, was responsible for Aviation. He is from Katsina state.
While speaking before taking a bow as a former senator, he told the senators to work towards reviewing the public procurement act which he said slows down activities of government.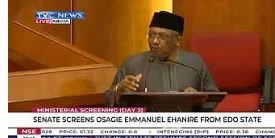 The representative of Edo state, Osagie Ehanire took the stand. He was the former minister of state for health.
He told the senate that the National Health Insurance Scheme is still work in progress. He canvassed for the establishment of primary healthcare centre in every political ward.
The nominee also enjoyed the controversial 'take a bow and go'.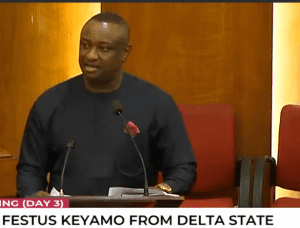 Renowned human Rights lawyer, Festus Keyamo was next. With his usual energy and zeal, he spoke about what he consider should be the priority in reforming the judiciary.
The Senior Advocate of Nigeria said if he becomes the Attorney General of the federation, he will propose what he tagged THREE-Ds: Decongestion of the Supreme Court, Decongestion of prisons, and Decongestion of cases.