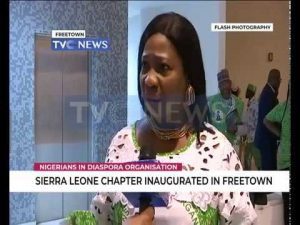 The Nigerians in Diaspora Organisation is a tool that has united more than four thousand Nigerians in Sierra Leone.
Before its introduction, Nigerians living in Sierra Leone were segregated along ethnic lines. But now NIDO has helped to give Nigeria a great image and deepen the nation's rebranding effort.
Moyo Thomas reports that the government of President Muhammadu Buhari  has since inception, emphasized the importance of looking out for  Nigerians in diaspora, prompting its establishment of Nigeria Diaspora Commission with Abike Dabiri Erewa as its pioneer Director General.
The Commission works with diaspora organizations to ensure proper integration and participation of Nigerians in the countries they reside.
This has also helped in improving the bilateral relations with host countries. The beauty of this synergy was displayed at this Nigerian event in Sierra Leone
The event was the launch of Nigerians in Diaspora Organisation,  Sierra Leone Branch and the inauguration of its executive
The Sierra Leonian President, Julius Maada Bio is represented at this event by the Sierra Leonean Minister of Foreign affairs
Nigeria and Sierra Leone have long standing business and social relationships that have been nutured over the years
Countries all over have built themselves into great nations with contributions from the diapora and this has become the focus of Nigeria
The richness of Nigeria is also in its diversity which is a strength for Nigerians in diaspora as they extol brotherhood beyond tongue and tribe
*cultural display