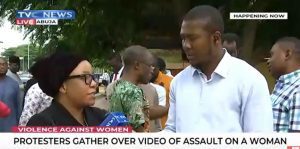 Concerned Nigerians, mostly women are currently protesting alleged assault on a woman by a serving Senator, Elisha Abbo.
The purpose of the protest, according to the protesters, is to formally forward a petition to the Inspector General of Police and the leadership of the National Assembly against the Senator and the Policeman attached to him, who aided the assault on the middle-aged woman.
A video showing the senator beating up a woman in a sex toy shop in Nigeria's capital Abuja has generated wide condemnation with many calling for his prosecution and ouster as a lawmaker.
The video, exclusively published by Premium Times, showed Senator Elisha Abbo, who represents Adamawa North Senatorial District, launching a brutal attack on a woman who tried to stop him from assaulting another woman attending to customers in the shop.
Advertisement

In the video, the Senator accused the shop attendant of insulting him and asked a policeman with him to arrest her. This action, for fear of her safety, made the attendant to make a call and tried to inform someone about what was happening. But this only angered the Senator who ordered her to stop the call.
The scene took a violent turn when a man with the lawmaker tried to smack the phone away from the shop attendant's hand and another woman who was watching the drama intervened.
Senator Elisha Abbo became furiously angry by the lady's action, and launched an attack on the woman who had only urged them to "take it easy", slapping and hitting her before ordering the policeman to arrest.
Our Correspondent reports that the protesters have already signed a petition to be submitted to the Inspector General Police, calling for a disciplinary action against the Officer attached to the senator for his unprofessional conduct.
As at the time of filing this report, a similar petition against the senator  has been sent to the leadership of the National Assembly for formal complaint about the action of the senator.