Amnesty International  has called on Nigeria Police to investigate Senator Elisha Abbo, representing Adamawa North for alleged assault on staff of an adult shop he patronizes in Abuja.
In a series of posts on its verified twitter handle, @AmnestyNigeria, the global watchdog condemned the act and said the video of the senator assaulting women is widely available for police to act.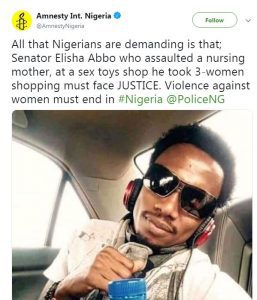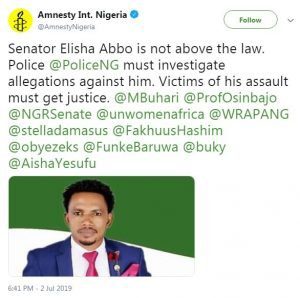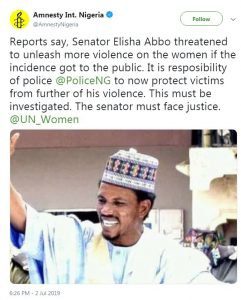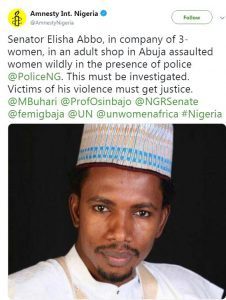 In the same vein, a Senior Advocate of Nigeria and the Spokesperson of the Buhari Presidential Campaign Organisation, Festus Keyamo, also condemned the Senator's act, and called for his arrest.
Advertisement

In a post on his verified twitter handle, @fkeyamo, the human rights activist lawyer said the case of Senator Elisha Abbo is very straightforward which requires no formal complaint.
While calling for his arrest, the International Arbitrator said the Police must immediately take three steps: 1. Arrest him (no formal complaint is needed with the evidence on tape) 2. Obtain his statement (if he's willing to make one) and that of the victim 3. Arraign him in court.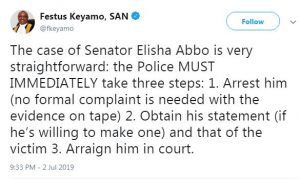 A video showing the senator beating up a woman in a sex toy shop in Nigeria's capital Abuja has generated wide condemnation with many calling for his prosecution and ouster as a lawmaker.
A protest against the Senators action is ongoing in Abuja as at the time of filing this report.