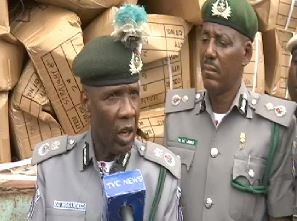 Why would anyone go through the stress of getting foreign exchange just to import table water from China to Nigeria.
This is what the Seme Command of the Nigeria Customs Service uncovered following the interception of three trucks loaded with more than seven thousand, five hundred packs of table water.
The water were concealed with human hair products.
TVC News Correspondent, Ifunanya Eze reports that when the packs of imported table water were being showcased, many were curious to know why water should be an item to be imported from China.
Officials of the Nigeria Customs and the National agency for food and drugs Administration say it is an absolute prohibition, more so when information on the product is written in a foreign language.
Another troubling seizure was this trailer loaded with 864 of 30-liter jerry cans of Sulphuric acid. The security implication of this particular seizure was not lost on those present.
While highlighting the command's efforts at suppressing smuggling, clarification was given regarding laws guiding the transfer of cargo from one customs administration to another.
Other seizures recorded include more than 1,700 bags of 50 kg foreign parboiled rice, used clothings, ginger drinks and soaps.