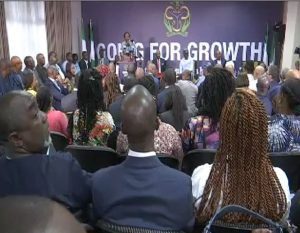 Governor of the central bank of Nigeria Godwin Emefiele has re-emphasized the need to strengthen efforts in the coming years to stimulate growth and create jobs in the country.
Emefiele made this position at a consultative round table with some economic stakeholders in Lagos.
The consultative forum was put together by the central bank of Nigeria to create a platform for private sector players to air their views and add inputs into the road map to be unveiled by the CBN governor.
CBN governor in his opening remarks warned that rising volatility in the crude oil market occasioned by the rapid increase in supply of shale oil by the United states portends great risk to Nigeria's growth trajectory.
At the moment shale oil production stands at 12 million barrels from 9 million in 2017.
Lagos state governor, Babajide Sanwo-olu, Private sector players led by Aliko Dangote and Jim Ovia had inputs for the central bank governor as he starts a new term leading the country's apex bank.
The Central bank governor maintained that the bank's development finance initiatives and foreign exchange interventions are targeted at supporting vulnerable persons in the society.