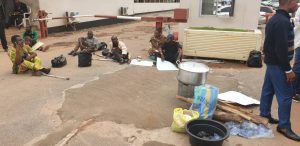 The physically challenged persons besieged the headquarters of the Nigerian National Petroleum Corporation in Abuja with cooking equipment, food stuff and firewood, determined to stay until the corporation yield their demands.
The protesters are members of Association of Graduate Persons With disability who demanded that the NNPC should fulfill it's promise of
providing jobs to physically challenged persons.
Meanwhile another awareness march by civil Society organisations surrounded the NNPC headquarters on the sale of oil blocs in the country.
Correspondent Habidah Lawal  reports that the protesters, in their numbers, displayed various placards in front of the headquarters of the corporation, a development that made security operatives from the police and the Nigerian Army, block the section of the road that directly leads into the oil firm.
Some of them moved about using their crutches, others sat in the sun demanding job opportunities at the corporation. Efforts by the representative of the corporation to appeal to them proved abortive.
Similarly, a coalition of civil society organisations is protesting the sale of the oil bloc, the malabu oil deal Oil prospecting licence (OPL 245) involving many prominent personalities in the country.
The protesters submitted a petition to the corporation, while it assured it will be treated accordingly, but the physically challenged protesters still remained unshaken.