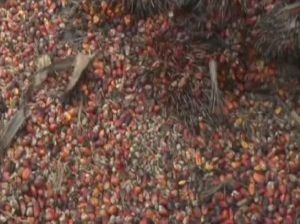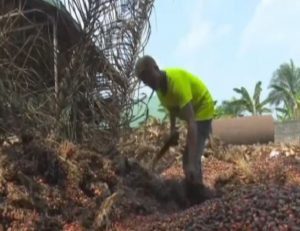 The National Palm produce association of Nigeria says the importation and illegal smuggling of Palm oil is making local producers lose 500 million dollars annually.
In the first quarter of this year alone, Nigeria imported a total of One hundred and twelve, thousand, four hundred and eighty (112,480) metric tonnes of palm oil.
Nigeria's annual consumption is put at two point four million metric tonnes annually but it currently produces between one point seven to one point eight million metric tonnes.
Advertisement

The Oil palm sector in Nigeria has witnessed a downturn with Indonesia and Malaysia leading in the global production.
But many are now calling for a re-positioning of the sector as part of efforts to diversify the economy.
In Nigeria, the major oil palm producing states include: Enugu, Imo, Ondo, Edo, Cross River, Delta, Akwa Ibom, Ekiti, Bayelsa, Rivers, Anambra, Oyo, Abia, Edo and Ogun State.
Data from the Malaysian Palm oil Board revealed that Nigeria in January imported 41,281 tonnes, 8,532 tonnes in February, 52,872 tonnes in March and 9,795 tonnes in April.
According to data from the United States Department of Agriculture (USDA), in Nigeria, oil palm production and export historically contributed substantially to Nigeria's external reserves and agricultural Gross Domestic Product (GDP) as palm oil and palm kernels exports composed 15.0 per cent to 20.0 per cent of the country's total exports.))
Reacting to the data, Henry Olatujoye, President, National Palm Oil Produce Association of Nigeria (NPPAN) in an interview stated that the country's estimated production is put at between 1.7 million and 1.8million metric tonnes and average consumption level stands at 2.4 million tonnes annually, which gives a deficit of about 700,000 tonnes that are still sourced from other countries.
He said that this present administration has been taking proactive measures to promote local development of the industry, stressing that government has put a duty of 35 per cent and also said that palm oil will no longer be accessible to foreign exchange.