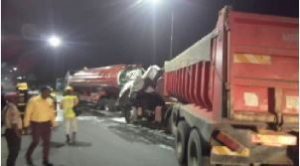 A truck carrying sand and a tanker loaded with fuel were involved in an accident at the old toll gate just before the Lagos border, subjecting motorists travelling outside Lagos on the Lagos-Ibadan expressway to a difficult time getting out.
Eyewitnesses said the truck collided with the fuel tanker from behind.
No life was lost but two persons sustained injuries and are currently receiving treatment.
The area has now been cleared.
Advertisement