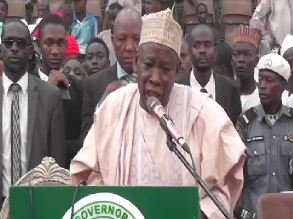 Emir of Kano, Muhammad Sanusi the second was conspicuously absent at the symbolic installation ceremony that saw the emergence of four new first class emirs in the state.
This is despite a court order on Friday seeking to stop the breakup of the Kano emirate.
Correspondent Ibrahim Isah who witnessed the ceremony reports that from One to Five, the number of Kano Emirs have increased. Kano Government had split the Emirate Council into Five and now First Class Emirs have been appointed.
Advertisement

Rano, Gaya, Karaye and Bichi will now be ruled by Abubakar Tafida II, Ibrahim Abdulkadir Gaya, Ibrahim Abubakar II and Son of Late Emir of Kano, Aminu Ado Bayero.
Residents of Kano witnessed the symbolic installation ceremony held at Sani Abacha Stadium. The Government said the decentralization was important to improve security, create jobs and revive history.
The New Emirs advocated for an improvement in Agriculture, Education and Security in Kano State. The State would compete with other developing states If development in these sectors are achieved.
A Kano High Court had issued an order halting this event. A restraining order had prevented Government from engaging in activities that would amount to splitting the Kano Emirate, barely 15 hours before the commencement of the installation ceremony. But the Kabo state Government still went ahead insisting appointment letters had been served to the Emirs before the Restraining Order.
The ceremony marks the beginning of four new dynasties in the state. Question many have asked is: can the court halt an act of parliament given assent by the Governor?  Only time will tell.