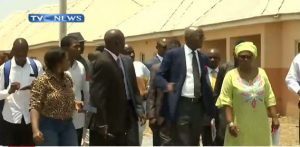 Minister of Power, Works and Housing, Babatunde Fashola, has inspected sites of the National Housing Programme in the Federal Capital Territory.
The housing scheme in collaboration with the Federal Mortgage Bank is putting up a rent to own mechanism once the projects are completed.
The programme is currently ongoing in thirty states.
The Minister ascertained the level of work done, at the housing estate sites in Gwagwalada and Zuba which have 218 units and 764  units respectively.
The federal Capital Territory has experienced a reduction in rent especially in the prime areas.
One of the sites in Gwagwalada was marked and ordered to stop work by the federal Capital development authority, prompting the Minister to query the contractor if proper paper work was done.
Nigeria remains a major driver of growth in the real estate industry going by its population currently estimated at over 190 million, with a yearly growth average of three per cent.