Gombe state government has disbursed more than four billion as loans to farmers to boost agriculture.
The loan which is under the federal government's Anchor Borrowers Scheme, is a cardinal project of the Buhari administration to increase food production and tackle poverty.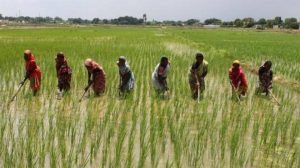 For most young Nigerians, stories of pyramids made from sacs of grains are nothing more than fairy tales.
They believe if the strategy to empower farmers and boost production succeeds, pyramids of grains may soon become a regular sight.  .