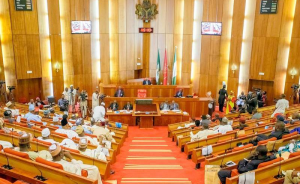 A group of Presidential candidates in the 2019 general election is seeking to stop President Muhammadu Buhari from signing the recently amended Electoral Act Amendment Bill into law. The forum of Presidential hopefuls, numbering 40, which has now filed a suit at the Federal High Court, believes signing the bill into law will truncate the nation's democracy.
The presidential candidates said they have discovered what they term deliberate hurdles capable of derailing the elections inserted in the Electoral Act amendment.
They have now approached a Federal High Court to stop Nigeria's President from assenting the latest amendment to the legal framework for the general election.
In their estimation, two sections of the amendment are a cause for worry as enumerated by their counsel. They said the time is too short to take the country through electronic transmission of results.
Their court action is coming days after opposition candidate, Atiku Abubakar and Convener, Nigeria Intervention Movement, Olisa Agbakoba challenged President Buhari to sign the bill.
Earlier, a group of political parties had threatened to pull out of the 2019 general election if the President failed to assent to the bill.
But these politicians said the pressure on Mr Buhari to append his signature to the Electoral Act is orchestrated
Legislative Aide to the President, Ita Enang, had assured Nigerians that the Bill was receiving the President's due attention.
Senate Leader, Ahmed Lawan, was more forthcoming last week when he told newsmen that President Buhari was at liberty not to sign the bill if he found a reason to do so.
Part of the amendment being sought in the latest amendment is legal recognition for the use of smart card readers.