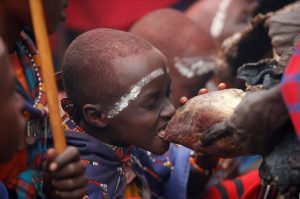 Thousands of Kenyan boys had a blessing of milk and beer sprayed on them as part of a rare Maasai ethnic community initiation ceremony to mark their passing into early manhood.
The colorful event, in Kajiado County, in the country's Great Rift Valley, happens just once every five to ten years for boys aged between nine and 15. In the Maasai tradition, a boy's "age set" is a critical.
After spending the previous night in dry, scrub brush forest, the boys were given a heroes welcome with multiple rounds of singing and chanting to boost their morale as they danced thrusting sticks in the air.
All the boys painted their heads with ochre, a deep red pigment made from clay. Those initiates chosen to be future leaders of the age group were marked by elaborate white paint patterns on their faces and bodies.
Their torsos were draped with colorful beads matching their bracelets. The young men also wore traditional red blankets and black sandals made out of tires.
"The ceremony is called 'Il Mirisho' which means people who have won…(within) five years they all will be circumcised and recognized as a moran," said community elder Ole Sakaya Matini.
Traditionally, moran are the Maasai's warrior class made up of brave and strong young men who defend the community.
The ceremony was organized by elders from the Matapato area where the boys are from.
To mark the occasion, a large bull was sacrificed and its meat was roasted and feed thousands of attendants. Its organs were later used to offer ritual blessings.
Elders put rings made out of the bull's leather on the fingers of the boys, who were also smeared with oil. In the last part of the ceremony, elders sprayed the milk-beer combination onto the boys as another blessing.
"This is the first ceremony to give their age group a name, now they are recognized and have an identity as an age group," said Matini, the elder.
The name chosen for this group, he said, is "Ilmemiri" — meaning "people who have won", or "people who cannot be defeated".