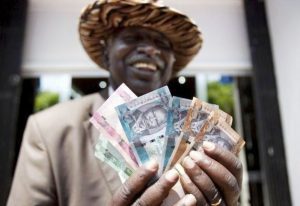 South Sudan's central bank said on Monday it will issue higher denomination banknotes, enabling citizens to carry fewer notes as rampant inflation continues to devalue the local currency.
The bank said it would introduce a 500 pound bill, worth $1.5 U.S. dollars, into circulation this month. Currently the largest note in circulation is a 100 pound bill.
South Sudan's economy is close to collapse after a 2015 peace deal with Sudan failed to stick and fighting between rival soldiers has continued. The conflict has hurt the country's crude oil output, which is at less than half of its pre-war level of 245,000 barrels per day.
"The Bank of South Sudan would like to inform the general public that it is introducing a new banknote of five hundred South Sudanese pounds as legal tender in the Republic of South Sudan," central bank Governor Dier Tong Ngor said in a statement.
Dier said the measure was meant to help reduce the amount of bills people carry.
Soaring inflation has persisted for several years, due in part to a depreciating South Sudan pound, which has lost more than halve its value against the dollar since December 2016 in the black market. In March, year-on-year inflation stood at 161.20 percent, according to the National Bureau of Statistics.
It has averaged 89 percent over the past 10 years, racing to a peak of 835.70 percent in October 2016.
South Sudan secured independence from Sudan in 2011 but in December 2013 slid into civil war after a dispute between President Salva Kiir and his former deputy Riek Machar. As the conflict continues, many of South Sudan's 12 million people are struggling to find enough to eat.