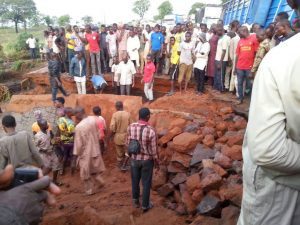 The Federal Road Safety Corps (FRSC) has alerted the public over the collapse of a bridge after Mowo Junction on the Mokwa-Jebba road, due to heavy rainfall.
The Corps Public Education Officer, Mr Bisi Kazeem, issued the alert in Abuja on Sunday morning.
"The bridge after Mowo Junction, 18km from Mokwa and about one kilometre from Tatabu bridge that collapsed last year and repaired promptly by the Federal Government on Mokwa- Jebba road has collapsed due to heavy rainfall last night.
"Consequently, vehicular movement from both sides of the road is affected as there is no thorough fare as at the moment.
Advertisement

"FRSC therefore advises motorists to ply Lokoja road as an alternative if going to Lagos and Abuja".
'In the interim, Kazeem said FRSC Corps Marshal , Boboye Oyeyemi has ordered immediate deployment of more personnel and logistics on the proposed alternative route to cater for the anticipated upsurge in vehicular movements along the route.
Oyeyemi therefore calls for caution amongst the motoring public while the bridge is fixed promptly by the Government. The Corps Marshal has also ordered strict traffic surveillance by operatives of the Corps at the bridge head to avert any mishap.