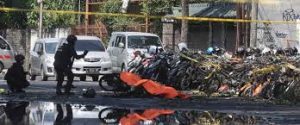 Monday, a day after Islamist militants launched suicide attacks on churches in the country's second largest city, police said.
"Clearly it's a suicide bombing," East Java police spokesman Frans Barung Mangera said.
"We can't be open up all details yet because we are still identifying victims at the scene and the crime scene is being handled," he told a briefing.
The blast occurred at 8.50 a.m. (0150 GMT) at checkpoint outside the building, he said. The full extent of casualties was unclear, he said.
Advertisement

CCTV footage shown on Indonesian television showed a motorbike arriving at a checkpoint next to a car and exploding as officers approached it.
On Sunday, Islamist militants killed at least 13 people in suicide attacks on three churches in Surabaya.