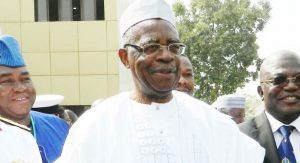 The Nigerian Army has dismissed claims by a former Chief of Army Staff, Theophilus Danjuma that its troops colluded to commit genocide in Taraba State.
Reading the report of an inquiry by the army, Chief of Civil Military Relations, Major General Nuhu Angbazo, said the claimant was not accessible to affirm his claim, and that the conflicts in the state were politically motivated.
He cited intolerance and lack of inclusion as the cause of the incessant conflicts in the state.
He also confirmed there is a proliferation of small arms and light weapons in Taraba state, and that its border with Cameroun is porous.
The military panel, which comprised serving and retired army personnel, representatives of National Human Rights Commission (NHRC) and Civil Society Organisations (CSOs), was set up on April 10 to look into the claims. It submitted its report on April 25.
Danjuma, on March 24 at the convocation of Taraba State University in Jalingo, alleged that some troops on internal operation in Taraba colluded with killers and herdsmen who attacked communities in the state. He said the troops failed to protect the residents against the attacks.