Nigeria has  won nine gold, nine silver and six bronze medals to finish ninth on the overall medals table at the end of the Gold Coast 2018 Commonwealth Games.
Nigeria's Sports Minister, Solomon Dalung, believes the outing was better than Scotland 2014 when compared on the basis of number of athletes featured in the competitions.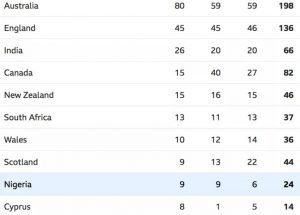 "We have done a comparative analysis and looked at the size of our contingent when we went to Glasgow.
"From the average knowledge of what I have, we have done better here than what we did in Glasgow," he stated while speaking to the contingent yesterday.
Dalung also announced that arrangements to host the athletes in Nigeria have been put in place.
"This will enable us to interface, interact, cross pollinate ideas and enjoy ourselves. I don't want us to access our success with medals.
We should assess our success by participation and the way we conducted ourselves during the Games. It is also time to begin to invest in our athletes if we want to do well in sports."
One of the highlights of the country's participation in the Gold Coast 2018 Commonwealth Games is the instant reward to medallists at the event's venue, which is a clear departure from past competitions where athletes sometimes had to resort to protests before they were paid their entitlements.
In Gold Coast, all the gold medalists received $5000 each, silver got $3,000, the bronze medalists got $2,000, while the relay teams got $9,000 and $7000 respectively for their silver and bronze medals.